Here is an excerpt from a TOV project I hope to publish in the future:
"Evolution is true."


The words glared down at her in bold red type from a banner above the entrance to the Pacific Rim University campus library. They made Janie's blood boil. They always did. Maybe the older students had found ways to control their tempers when they saw stuff like that, but not Janie Palmer. She was the youngest student on campus, a freshman at only the age of seventeen—thanks for the most part to her father's tutelage. However well he had taught her calculus and Riemannian Geometry, though, he had given her very little of that virtue the college crowd called "tolerance".


When she saw things that made her angry, she did something about it. In this case, she said it. To the young man seated at the table beneath the banner beside a stack of his books. A line of students had formed to wait patiently while he signed each copy he sold. As Janie waited quietly for her turn, she noted how large his name had been printed on the front cover: Carl Lace. In a smaller font, the book's title mimicked the banner overhead. "Evolution is True".

He flashed his shark-white teeth at her as she approached. Combined with the fresh copy of his book that he made ready to sign for her, his demeanor came across as nothing but arrogant. Janie ignored it. She did not need any more fuel for his pyre. Not after what she had been through—what she was still going through—these last few days.

"What do you mean, evolution is true?" She asked with arms folded across her chest. She made no movement to suggest interest in his book.

Carl Lace was ready for this. She was not the first religious fanatic to challenge his claims. His smile faded only long enough for him to say, "If you are not interested in my book, young lady, please move aside."

"I'm interested," Janie countered, snatching an unguarded copy from the top of his stack. She flipped it over to read the back. "It says you have a PhD in Anthropology and Astronomy." She flashed him a calculated smile before adding, "And all that before your twenty-fifth birthday. Impressive."

The shark-like grin returned to Dr. Lace's face. "Thank you," he said, holding up a pen. "Now if you'd like to hand me your copy, whom should I sign it to?"

Janie ignored the prompt. Instead, she asked her question again. "What do you mean, evolution is true?"

"Science has proven it to be true," Carl Lace retorted impatiently. Several of the students in line behind Janie crowded closer as if to encourage her to leave. To them, the author said, "Scientists are already using evolution to save lives—and to save the planet. It's real, and it's true, and it's here right now!"

A woman's voice from the crowd said, "Wow!" Then a young, male student asked, "Evolution saves lives?"
Carl Lace stood up to address the interested assembly. "Indeed, Evolution saves lives. Right now, scientists in South America are using Evolution to fight the spread of diseases by introducing new species into the environment to reduce the parasitic populations that kill thousands of people each year."

Janie shook her head. "How is that Evolution?"

The smile on Dr. Lace's face barely flinched as he turned towards her. "It's survival of the fittest, young lady."

"No," Janie countered, "It's interference by man."

"Of course," he agreed.

"But the theory of Evolution is based on the idea that life evolved without interference," Janie let her voice sound puzzled. "And it took millions of years. How long did it take for these scientists to…"

Carl Lace did not let her finish her question. "What is your name, young lady?" He said with less of that shark-white smile now visible.

Janie did not oblige him with an answer. Instead, she continued her argument, "It's no secret that scientists prefer the theory of Evolution because they don't like to think there was some larger being—what some call God—who created this world and all life on it."

"There is no God," Dr. Lace said coldly. To her right, Janie heard another student shout, "God is dead!" Then another student echoed the cry, and another.

"That is not what I am talking about." Janie had to raise her voice to be heard above the chanting in the crowd. "Don't change the subject!" She pointed a finger at the scientist and said, "This is only about God if you want to make it."

"Then what is this about?" Dr. Lace growled.

Janie took a deep breath, recalling the debate classes her father had encouraged her to take last year at the Community College to flesh out her G.E.D. Then she spoke loud and clear for the audience to hear. As she continued, the chanting died down as the students listened to her explanation. "You said that humans are interfering with the survival of a species in South America. You said that an unwanted species is going extinct, or at least being endangered, because of human interference. But that doesn't prove that man evolved from monkeys over millions of years. That only proves that a higher form of intelligence—in this case, scientists—are responsible for the survival of one species and the extinction of another."

The smile was gone from his face as Carl Lace nodded his head. "That is Evolution."

"No," Janie shot back, "That is something else. It's Evolution with a new meaning."

The audience was silent now, waiting for Carl Lace to counter the impertinent teenager with his superior wisdom.

For once, Dr. Lace did not have an answer. "What?" he asked coldly.

"My dad is a Christian," Janie began, "But even he believes in what he calls Closet Evolution. He hangs all his nice, clean shirts in the front of the closet, and he always pushes the stuff he doesn't wear much into the back. After a while, when he wants to make room in the closet for more clothes, he takes whatever is in the back of the closet and gives it away. Those are the clothes that worked their way to the back because he didn't like them, and so he does not miss them when they are gone."

A sneer crept onto Dr. Lace's face. "How is that Evolution?"

"It isn't," Janie shrugged. "It's like the theory of Evolution, and it works on similar principles, but it is different. That is why Daddy calls it by another name."

"But he called it Evolution," Dr. Lace snapped.

"He called it Closet Evolution," she countered. Turning to the audience, she said, "If I just used the word "rose" to describe everything that is a rose, what kind of things would I be talking about?" She counted off on her fingers as she listed them, "There's the wild rose with only five petals, the English Rose who died in a car accident in Paris before I was born, there's the compass rose you'd see on a map, the climbing rose, the long-stemmed rose…" Having run out of fingers, she stopped her list and turned back to Dr. Lace. "The difference between a long-stemmed rose and the compass rose is the other words added to describe it. If you really want to avoid confusing people about Evolution, I suggest you add something like 'Promethean Evolution' when talking about Evolution by interference from an intelligent being." She hesitated only a moment before driving her point home, "But I suppose that's not what you want at all, is it, because it leaves the door wide open for religious nuts like my dad to suggest that maybe there is a God who interferes."

Suddenly Carl Lace's face changed. His sneer darkened to a menacing snarl. "Don't question me, little girl."

"But your argument is just a bunch of snake oil," she continued insistently. "It's the old 'bait and switch'. There's nothing true about that. You're no better than—"

He did not let her finish. Lunging at her from across the table, he grabbed her by the arm. "Shut up! Shut up, you little snot!" With uncontrollable rage he shook her by the arm. Janie felt as though he might tear it from her shoulder at any moment. She struggled to break free, but his grip held fast. He gnashed his teeth in her face. "Shut up, I tell you!"

Then there was a dark shadow at Janie's side. A tall, menacing presence that seemed to push back the crowd even as it reached for the scientist's hand on Janie's arm. She saw a black, leather sleeve and a large, man's hand grip Dr. Lace's wrist, and the scientist's terrible grip released immediately.

"I think you've made your point," Janie's rescuer said to her calmly. To Carl Lace, he said, "And I think you made yours." His tone bore an edge of cold animosity as he spoke that last word. Janie looked up to see him standing beside her, dressed in a black, leather jacket to match his dark jeans, stubble-covered chin, and unkempt, black hair. He looked to be the same age as the young scientist he stared down.

Dr. Lace drew back to his side of the table. Regaining his composure, he hissed, "I think you both need to leave."

"But I didn't get my book signed," Janie retorted hotly.

"Don't push it," the stranger grunted, taking her gently by the arm and guiding her away from the table.

The crowd seemed to part in front of them as he moved her toward the library's front doors. Several of the students recoiled visibly in recognition of the stranger that now gripped Janie by the arm. One young woman muttered, "It's Killer."

Janie stiffened. What kind of a name was that? Was it his nickname? Was it his reputation?

"I heard he killed his friend," another voice whispered as they passed.

As they passed through the glass doors, somebody else announced, "They never found the body."

The silence of the library settled in around them as they stepped away from the murmuring crowd. Then, stepping to one side of the automatic doors, the stranger turned to face her.

"Who are you?" she asked, followed by, "What do you want?"

"I need to talk to your father," the young man said quietly.

A wave of fear and despair washed over Janie, and she felt the fire leave her. Her knees buckled, and she found herself being held upright by the stranger's strong grip. For a moment, she felt tears in her eyes. Then that stubborn, Palmer grit returned, and with it the strength to stand. Dryly, she commented, "You and me both."

"Listen," the stranger said earnestly, releasing his hands from her arm so that he could dig through his jacket pocket. "It is very important that I talk to your father. It's about his research." Janie had a hard time believing that, but she said nothing. "Please give him this," the man said, pressing a small square of paper into her hand. Then, seeing that she had taken it, he quickly stepped away and disappeared into the crowd.

Janie looked down at the small slip of paper he had placed into her palm. On one side, he had printed a poorly-framed photo of an old, clay tablet covered in strange symbols. Janie tilted it one way, then another, trying to recall if this was something her father had been researching before he…she felt her nerves finally give way as she thought about that last phone call she had taken from her father. She folded the note in half to hide the photo, but discovered instead that the back had been written on.

In large, black letters, the young man who had rescued her from the clutches of Carl Lace had written a single sentence: "Can you read this?"

Underneath the short message, he had written a phone number, followed by a name.


His name, Janie noted, was Lance Kale.
 
| | |
| --- | --- |
| Posted by rjagilbert on February 26, 2017 at 11:15 AM | |
I originally posted this entry in late January, during what I had hoped would be a short-lived period of political unrest. Today, as I try (once again) to re-post this excerpt from my latest Tales of Vantoria book, my local left-wing politician has made front-page news telling his followers that they need to "keep fighting." It's not just scary. It's sad. In my own family, there are relatives who have not talked to each other since before the November 2016 election.

So, in the spirit of trying things again, I would like to re-post this incredibly relevant excerpt in which the main characters, preparing for another dangerous mission into a city torn by civil war, discuss the ways in which words can be used as weapons.

***

A thoughtful expression had come over Wenchel's face. He set the wand down gently on an end-table and seated himself on the couch. "Haiyamm's taught me a lot of things. Not just about magic." He looked up to his friends. "I think the more important things were about how to be a king."

Luciana reminded him, "You have several friends who wish to help you rule." She gestured to Renaud and herself.

Wenchel smiled gratefully at her. "Thank you," he said, "I can use all the help I can get." Then he leaned forward, hands clasped together as if in prayer, and said, "There's something else I've been thinking about, though. Since we came here. A story Haiyamm told me about my own world."

"About Magic?" Mary inquired.

"About being a king," Wenchel clarified.

Renaud coaxed, "Do tell."

"Haiyamm once told me that there's no difference between a castle and a dungeon. They're two words for the same building—from different languages, but used to describe the same structure."

Mary looked confused. "What do you mean?"

Wenchel began, "The story tells that a kingdom on Earth was once invaded by two armies. First, an army from the north came to burn villages and take the people hostage. From his castle, the king rode forth with only a handful of his best warriors. In five days they marched nearly two-hundred miles across the land, all along the way sending out riders to call for more men to join them. And men did join them; gathered from all corners of the kingdom to defend their fellow countrymen from the northern invaders. By the time they confronted the enemy, they were a great army, a sea of armor. They drove the invaders back, freed the captured cities, and restored peace."

Renaud asked, "So what about the other invasion?"

Wenchel's eyes grew sad. "News of the second invasion came while the king was still restoring order in the north of his kingdom. He gathered what forces he could from the weary countryside and marched the long distance—and then some—to confront the second invader on the southern border of his land. Unfortunately, this battle was lost, and he died."

Luciana sat beside him on the couch. She put a gentle hand on his shoulder. "That doesn't have to be you."

Wenchel shook his head. "That's not the point of the story."

"What is the point?" Mary asked insistently.

The young king continued, "The new conqueror did not have the support of the people who had so freshly fought with their king to defend their land. To maintain control over the conquered kingdom, he built new castles—fortified structures—in every region he took possession of. In his language, he called them dungeons, and from them he asserted his authority over the people until they dreaded the very word used to describe those buildings."

Renaud grunted. "I get it. The only difference between the old king's castle and the new king's dungeon was how they were used."

Wenchel nodded. "One is used to build up and protect. The other to oppress and control." He unclasped his hands and leaned back against the couch cushions. "I suppose the same could be said of anything, really. How we use it determines what it means to those who see it in use."

"Especially for those who fight with words and ideas," Renaud said, thoughtfully stroking his chin.

Luciana considered the idea for a moment. Finally she said, "That's the best description of my mother anybody's ever come up with."

* * *

Dungeon of Illusion was published in 2015, a full year before the political unrest that began when Donald Trump announced his run for the white house. Neither of the opposition parties described in that book are based on the real-world political candidates. However, the lies, the deception, and the political antics described in this book all come from historical figures who used those tactics to gain and retain control. Unfortunately, as a wise person once said, those who do not learn from history...are doomed to repeat it.
I'm going to be honest. I don't really care who gets to be the next president. Either way, it's going to be a disaster—at least as much of a disaster as it was the last election, and maybe even worse. Judging from the summary I put on the back of my latest book, Dungeon of Illusion, it might seem like I have a vested interest in the election—and that I definitely prefer one side to the other. But that's not why I wrote Dungeon of Illusion.
When I began writing the third book of the Tales of Vantoria series, my thoughts were only vaguely on the approaching political year that 2016 was destined to become. It was late 2014 when I started solidifying the plot. Obamacare was fumbling its way through its first couple of years, leaving my family and several others that I knew of to flounder in its wake. My church was falling apart, pastors resigning and the youth group collapsing. At the same time, I was watching several marriages collapse around me. These were the factors that influenced the writing of this story.
If you want to find some real motivation behind why I wrote Dungeon of Illusion, there is a point in the story where Wenchel retells a story from Earth's history. It is an illustration I tried to share with my pastor shortly before our church fell apart. The message I meant for him was this: The only difference between a dungeon and a castle is how it is used. The same goes with a church, a political organization, or any position of leadership meant to serve the people but instead serving only the leadership. The very word "Dungeon" was brought into the English language by leaders who used their castles to oppress and to control.
The boy named Jeremy, around whom much of this story revolves, is based on several kids I knew whose parents were going through marital strife and divorce. At the same time, I saw the churches around them unable to help because they were locked in their own political battles—disputes over doctrines and infrastructure flowing over into the congregation and pushing the hurting community away. I saw church leadership who thought becoming "fishers of men" was the art of luring followers into the church and "keeping up appearances".
I finished writing Dungeon of Illusion a full year before the political shenanigans of 2016 had begun. Trump wasn't even on the radar then. Neither was Bernie. At the time, Hillary Clinton was a sure-shot for the position of Democratic contender; I did not, however, base the character of Lady Katharine on Her. The Lady, as Captain Grolit calls her, is based on more of a compilation of the various personalities I have encountered in politics and religion who are more concerned with "keeping up appearances" than actually serving the people they have pledged to serve.
When I first published Dungeon of Illusion in 2015, I had planned to promote it heavily during the political season because its message is one worth reading before going to the polls. I had no idea who was going to be running, and I didn't think it mattered. However, now that we are entrenched in the current struggle for power, I fear getting "caught in the middle" just like Wenchel and his friends did in the story. My family is already struggling with serious medical issues, and we do not have the strength to fight this battle alone, which, being an indie author, is how we have been fighting all along. Were the church to come alongside me and strengthen my endeavors I might have been able to do more. Instead, all I can expect from the church is just another "dungeon of illusion".
The bigger picture is this: we are wrestling not against flesh and blood, but against the princes and hidden authorities of this dark world. When I began publishing to the global market, I attracted the attention of some of those very powerful princes. My entire family has suffered as a result—caught in the middle just like Jeremy. Maybe I deserved the strange illnesses that I've struggled with these last few years. Maybe I deserved to have my car encounter mysterious break-downs over and over again (despite my vigilant attempts to maintain it). Maybe I deserved my roof to spring a leak or my finances to fall apart. My family didn't deserve it, though. My wife, the health-conscious woman, didn't deserve to get a random cancer from out of the blue. My daughter, on the verge of womanhood, does not deserve the scars on her body that she will have to live with the rest of her life. My son thinks he was spared, and yet, amid the fighting, he has grown so distrustful of churches that he has not set foot inside a youth group for more than three years.
Bearing these wounds, I wrote Dungeon of Illusion, not identifying with any of the established heroes from my previous adventures, but expressing my own feelings through the personhood of one wretched, battered, half-mechanical komodo named Joe. That is the individual I identify with the most. The warrior, beaten and bruised, still trying to fight for what he thinks is right. Still trying to save the innocent in a world where unworthy leadership has left behind a wake of devastation. No, there isn't anybody in the political scene who matches Joe's character. Joe is not a politician. He is not a pastor or a priest. Joe is everybody else out there who, despite the rotten state of leadership, is still trying to do what's best for the people in his life.
Maybe, in a perfect world, people would have had the option to vote for Komodo Joe.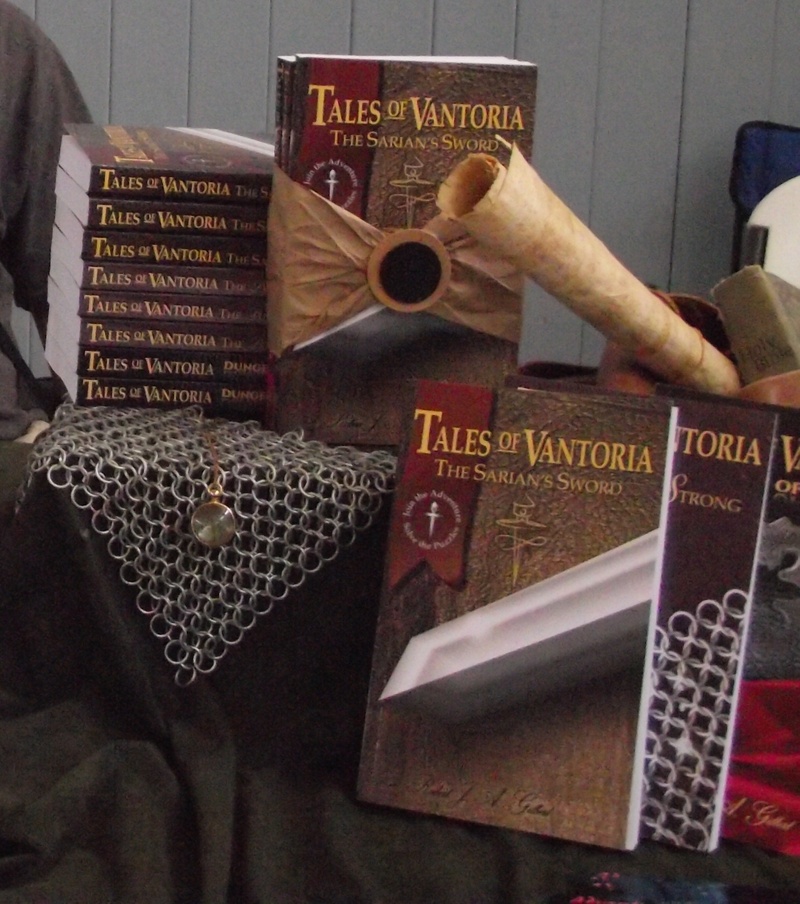 I spent Saturday at a book fair for indie writers. Most of the tables were romance novels; there were a lot of jokes about lingering too long at the tables featuring an array of shirtless men. There was one or two other fantasy authors there—writing to more of the grown-up, teenage crowd—but I was pretty much alone in my genre and my age group.


A few hours into the event, two children approached my table. A boy, about four, and a girl, aged five. Wearing a frilly dress and a dazzling, blue butterfly painted upon her face, the young lady began to talk to me about books. She was learning to read, she explained, so that she could one day read a special book she keeps in her room. When asked what it was about, she explained that she liked to think it might be about butterflies and princesses. Wow! What a wonderful opportunity to segue into my illustration of the old Bible found at the beginning of the Sarian's Sword! But before I could begin, her younger brother opened up with his own line of questions.


The boy was more curious of the old-looking roll of parchment sticking out of the leather-backpack display I had set up for the Tales of Vantoria series. Was that a treasure map? No, I explained. It looked like a treasure map, but in reality it was…well…as I unrolled it to reveal an old wall-decoration depicting the ten commandments, I could not help but muse that, yes, some folks did consider that to be a map. Again, I began to explain how some people can mistake an old poster for a treasure map and miss out on the real treasure map right in front of them…but they had already moved on to the next thing on my table. It was the small square of chain-mail I wove a few years back just to see how hard it would be (it was hard). I like to tell people that it is genuine, Mythril chain mail (since some historians believe that Scandinavian legend originated from a Persian word referring to the glimmer of light on steel), but I knew better than to try to explain that line of information to my two young guests.


Attached to the chain-mail was a "lucky charm", an old necklace with a four-leaf-clover encased in glass that I'd found at a craft bazaar several years ago. As I showed it to my visitors, I explained the function of chain-mail armor in battle—how it could stop swords from cutting and arrows from piercing through it. Then I asked: "If you were going into battle against goblins and trolls and all kinds of monsters…which of these two items would you want to protect you?"


The princess with the butterfly on her face did not hesitate to answer: "I think I would want the necklace."


And that, dear readers, is a wonderful illustration all its own.
I grew up thinking that the world was full of buried treasure—that just about every town had its own secret shipwreck story or a hidden cache of gold somewhere up in the mountains just beyond the city limits. It was not so much because I'd read too many Hardy Boy mysteries or watched too much Treasure Island and the Goonies, but because, growing up in the mountains of Oregon, there were more local legends of buried treasure, lost mines, and sunken treasure-ships than a kid could ever hope to keep straight. I mean, even Oregon's own Crater Lake National Park features a famous, real-life search for lost gold within its origins story. Having heard my fair share of local treasure-hunt stories featuring coded maps and cryptic clues, it was only natural to assume that I might encounter something of the sort in real life.


That was back in the 1980s, when REM was a popular band and "Stand" was just another one of their hits. Or was it? To a kid who grew up hearing about puzzling markers in the woods and maps that lead to treasure, the lyrics to that odd song sounded like exactly what I heard them to be: clues. I mean, really, couldn't that line about "If bushes were trees, the trees would be falling" be meant to guide some special treasure hunter to a particular location somewhere in the world where bushes might be falling if they were trees?


I'm sure it sounds silly to others that I thought such things, and of course, there never was any treasure found by following that song. It was all my own false assumptions. But the idea—the embarrassing memory of my friends reacting to my absurd theory—still reminds me of how easy it is for people to be led astray by false assumptions about what they expect something to be.


…Take the Bible, for example.


I recently heard a statistic from a theology professor that 85% of the Bible is about the salvation story. That leaves 15% for all the other stuff people might think can be found between Genesis and Revelation. Really? Eighty-five percent? How is that so? Does everybody out there agree with that statistic? Certainly I don't.


When I read the Bible, the passages that deal with "salvation" seem, at least to me, to be few and far between. Even reading through the Gospels, there is just so much more that Jesus taught than merely answering the age-old question of "What must I do to be saved?" Could it be that the 85% is more a reflection of what those theologians are looking for within the Bible than it is an accurate measurement of the Bible's contents?


Of course, my own findings could be just as much a reflection of my own expectations. You see, I was born into a home with a fear of hell so strong I prayed the sinner's prayer every morning on the way to school…just in case I didn't live to say it again at my nightly prayer-time. I went to Sunday School on Sundays and a Christian elementary school five days every week. I knew those Bible stories inside and out…or so I thought. My childhood was not fore-ordained to be one of cloistered body or mind, and by the time I had matured into a young man, a lot of what I had learned from my Christian upbringing just plain didn't make sense anymore.


At this point in my life, I could have done what a lot of people do and just walked away from Christianity. I didn't have that option, though. I had experienced enough of the spiritual world to know that there was something real, something true, in the teachings of Jesus. But what the mainstream Christian industry was selling me was not it. Not by a long shot.


I know a lot of people who let other people tell them what is in the Bible. It makes sense, I suppose, to let the pastors, the best-selling authors, the musicians on the radio and the smart-looking men on television tell us what the Bible says and what it means. But one day, I opened the Bible to read it and something amazing happened: it spoke to me. It told me something that I had never heard before. Something no other theologian had ever told me was in there. This experience was followed up by others—other moments where the scriptures literally "spoke" to me. Suddenly I was in a whole new world. Not the world where I'd show up at church on Sunday and let the Pastor give me "God's message" for the week. Suddenly God was speaking directly to me. And it was changing my life.


How, then, to convey this life-changing phenomenon to others? Here I was, filled with passion and energy and joy, wanting to pass it on to others, but not knowing how? At the same time, I was confronted with mainstream (or at least denominationally mainstream) theological beliefs that I did not agree with. How could I address these disagreements without sounding like just another fanatic who was convinced that his own way was "right" and everybody else was wrong?


One day, walking home from work, I stumbled across a solution. The illustration of the Bible and the map began to form in my mind, and thus I discovered the beginning and theme for my first Tales of Vantoria adventure, the Sarian's Sword.


What would you do if you found an old map? More to the point: what would you expect? Where would you expect the map to lead you? What would you expect to find at the end of your search? And what would you do if you discovered, after all the time you spent searching, that the map had all along meant to lead you to something completely, wonderfully different than what you had expected?
| | |
| --- | --- |
| Posted by rjagilbert on February 7, 2015 at 2:30 PM | |
One of the most harrowing sections of Interstate 5 is the Siskiyou Summit, a long, winding stretch of highway that rises up into the rugged mountains south of Ashland, Oregon. It is not uncommon for the summit to be covered in cloud, with mist so thick it is hard to see the taillights in front of you or the curving lanes in the road ahead until you are almost on top of them. It was one such ascent, into the thickest cloud I had ever experience, that I drove with white knuckles amongst the usual swarm of motorized humanity. Nearing the top, hemmed in by truck trailers, I came very suddenly upon a small, red Oldsmobile travelling twenty miles an hour slower than the speed limit. I sought for a way around this hazard in front of me, but to no avail. As the looming semi to my right tried to make its way past in its own lane, this little sedan swerved recklessly out of its lane, causing the trucker to veer onto the shoulder and my own blood pressure to skyrocket.
Furious, I slammed on my brakes and cursed the driver ahead of me. As traffic swerved around me from behind, I found myself trapped behind what I envisioned to be some old man or a drunk who had no business up there on top of that mountain. Then my wife said, "He's just lost." Suddenly, my perspective changed.
It did not matter what was wrong with the driver in front of me. What mattered was that we both needed to get safely out of that cloud and down that mountain. And as the last of the pack of passers disappeared into the fog ahead, I realized that there was only one person left to show this lost driver the way: me.
Taking advantage of the momentarily clear freeway, I zipped my own little car around the slow-moving sedan. Instead of shaking my fist, honking, or racing ahead like the others, however, I pulled in front and matched my speed to the veering car behind me. Then I began tapping my brakes, hoping he was sober enough to spot my flashing, red brake lights in the thick fog that surrounded us. Having learned to drive in the mountains of Southern Oregon, I knew how to drive in this kind of fog, and it was less difficult for me to keep my headlights trained on the white lane indicator ahead of me than it was to keep track of the balking motorist behind. But somehow, we did it. At some point, the driver realized that I was easier to follow than his own diminished view of the road ahead, and he fell in behind me. Faster traffic sped past us on the left, but we remained in the slower lane, with me travelling only as fast as the car behind could keep up with me. Twenty minutes later, we descended safely out from the cloud. Imagine my surprise when the little red sedan, having regained its senses, suddenly swerved around me and sped away down the highway in the clear, blue daylight.
I am reminded of this adventure when I read on the internet so many comments that condemn and belittle those who are "lost". Folks, there is no merit in speeding past them, shaking your fist at them for slowing your own progress, veering into your lane, or generally making your own journey more harrowing than you'd like. They're just lost. They need to be guided out of that cloud. They need to have somebody show them where the lane is in front of them so they can keep to it themselves. They need to be shown "the way".
In ancient China, a philosopher wrote a book about "the way"; it remains one of the most popular books in Eastern Philosophy because of its wisdom and guidance. Jesus even referred to "the way" in his teachings, and Christians first called their new belief system "the way" before it was more commonly named "Christianity". History shows, however, that even Christianity has lost the "way" from time to time. When that happens, the best solution is not to damn to an eternity of hell those who stumble, nor to demand that they conform once again to a legalistic adherence that may be just as far off course as those who are stumbling. The best action is to show the way by living it.
There is no escaping the lost. You can't just swerve around them and speed away to avoid them. I've lived amongst the lost all my life, and there have been times when even I have been amongst their numbers. What they need, most of them, is for somebody to keep pace with them while showing them the way to go. That is exactly what Jesus taught his disciples to do.
There is no use damning the lost either. Everybody swerves out of the lane from time to time. Everybody drives too fast or too slow sometimes. But there is an ideal. There is a center of each lane, and there is a posted speed for that lane. Most of us, knowing that ideal, are blessed when we strive to adhere to it as best we can. And those who share the road with us are blessed when we give grace to they who might be deviating a little bit into our lane or riding our bumper a little too close. After all, is that not what Jesus taught?
...
However, there are those who are beyond lost; they require a different kind of treatment. They are the ones who, on a clear and sunny day, swerve and veer all over the highway regardless of the painted lanes or the posted speeds. They don't care what the way is, because they want to do it their own way. They think that, if the majority wants the speed limit to be raised, they can do so without consequences (those old people who can't drive the new speed need to just get off the road). They might have learned how to turn left in Mexico (from the right lane), or how to drive while texting on their cell phone (which is illegal in most states these days), and even though their driving causes chaos on the road around them, they insist that they have the right to express themselves in that way. Despite what they say, they obviously care nothing for those around them; their idea of social interaction is a blend of pre-school and daycare politics where sharing is taking and relationships are merely positioning themselves to gain the most from their alliances. Those people aren't looking for the way. These people are not lost. They are dangerous.
Why are they dangerous? Because they want to change the way. They want to make others follow their own way. They want to repaint the lanes, re-post the speed limits, and if it makes life difficult for others who are trying to share the highway, they want to force those people off the road. These are the people who, posing as teachers of the "way", have infiltrated the local highway authority and created a far greater threat to travelers than a dark cloud upon the summit.
Jesus described these people as wolves in sheep's clothing. They are the ones who get their books published with the large publishing houses—not because their teachings are sound and strengthening, but because they sound good and will sell well. They are the ones who cling to the "Jesus is love" teaching while all the while draining the life from out of their enemies. They are the ones who insist that they are doing no harm, while all the while creating chaos and confusion all around them. And they are the ones who get listened to. They have the web sites, the television shows, the best-selling books, and the radio ministries.
What do I have? My own life.
As an independent author, one who follows only what the Spirit shows me through my own personal experience with what I trust is my Creator speaking to me, I do not have the power within me to confront those false prophets. All I can do is show the way to those who are seeking it. I cannot out-shout, out-advertise, or out-preach those whose resources seem limitless because all of the World is behind them. The only thing I can do is hope that somewhere, somebody is listening to the voice of the Spirit within themselves when it points them toward me and instructs them to follow me down the mountain.
A friend of mine once stated that, when Jesus said we will know his disciples by their fruit, the fruit he was talking about was more disciples. I must ask, though, if that validates the ways of Islam, since they have managed to gain so many followers in recent decades by means of persecution and fear. Was that not the same way in which the Catholic Church gained so many converts in the middle-ages? And did not those converts, not wholly embracing the teachings of Christ, succeed in corrupting the Church far more than it did in converting them to the "way"? No, I say, that is not a good measurement of one's fruit. Instead, I look at Abraham. He was promised a nation, yet at the end of his life, he had only one son. What he did have, however, was a personal relationship with God all through his life. God would show up at the door to his tent, and Abraham would invite Him in to tea. And God prospered Abraham's life, not with wealth or with followers, but with the presence of God. To this day, billions of people want to be a part of his nation. They want to follow his way. They want to be one of his people.
As I write this, my phone rings again and again with the calls of children who do not belong to me. It is a Saturday, late in August, and the kids in my neighborhood are bored. They do not want to be home, alone while the parents work or nap. They want to be at my house. Why? Because my house has life in it. Because my house has parents who like to play Minecraft and Pokemon and sometimes slip a little bit of "school" into the conversation. My house is not just the place where they can come to get cookies and pop-sickles, it is the place where a kid can feel safe to talk about the things that are bothering them without threat of a lecture (unless, of course, I've had too much caffeine, which is why I'm even writing right now). My wife is the one who the neighbor girl comes to talk about the serious issues that she is afraid to discuss with her own mother. When my son's friends want to talk about drugs or alcohol, they ask me for my opinion absent the presence of a Sunday school classroom or my role as teacher. And when my family goes on adventures around town, we take those children with us. It's not just babysitting. We know that we are showing the next generation the "way."
A few years ago, my wife and I began arguing over whose fault it was to forget the camera on our way to a local waterfall. In the stillness between angry words, a young voice came from the back seat: "Are you guys going to get a divorce now?" It was the boy next door, who had seen his own parents split apart by similar fighting. In the years since then, he has come to understand that there is a "way" that can avoid divorce, and that our marriage is following it. The fruit that he sees is not that he has "converted" to our way. It is not the wealth or success that our faith has brought us; he still compares his family's own wealth to our relatively modest little house and older-style lifestyle (although we do have four computers hooked up to the LAN that we use to play together). What he does see is our happiness. It is our marriage—still intact despite the storms—compared to the broken home from which he would rather not spend his Saturday. It is our children, wise despite their youth and smart enough to help their contemporaries with both homework and personal problems. It is a way of life, a people to which he wants to belong. And yes, it is also the fact that I am flawed, that I sometimes have to ask forgiveness from my wife and back down from my argument—to turn away from the shoulder of the road and seek the center of the lane that will carry all of us safely down the mountain.
I don't have to ask these kids to come over. I don't have to ask anybody to follow me. They want to follow me. Because they can see that I know the way.
Or at least, they can see that I'm trying to follow the way much better than those who keep veering all over the road.
| | |
| --- | --- |
| Posted by rjagilbert on September 1, 2014 at 4:45 PM | |
How many of you know the story from the Bible where Mary and Martha invited Jesus over for a meal? Mary was listening as Jesus taught, while Martha was busy with other things. When Martha confronted Mary for not helping with the food, Jesus told her that what he was teaching was more important. Here's the real question: what was Jesus teaching there? What did he say? It wasn't written down. Why? Obviously somebody had the presence of mind to document the event. But what was important to him? The idea that we should listen to Jesus. And yet, by not recording what it was that Jesus said, the entire story is hypocritical. Do you really think Jesus is pleased that we choose to listen to him over other distractions, yet we cannot remember what it was he said? Sadly, that is the way I've found it with so many people who say they are following the teachings of Jesus.
Many years ago, my wife and I were teaching a middle-school Bible study class that focused on the story of David and Abigail. I tend to go off-curriculum when I teach, so I wound up following up the "authorized" version of the story by reading the rest of it from my Bible. Suddenly one of the boys in class spoke up. "Did you just say David married Abigail?"
"Yes," I confirmed. "He took her as his own wife after her husband died."
"But then she died, right?"
"Eventually," I answered, not sure what he meant by the question.
"But I thought David married Bathsheba."
"He did," I confirmed.
"So did he marry Bathsheba after Abigail died?"
Uh oh. Realizing that I had wandered into one of those "veiled" sections of the Bible that some parents might not like me teaching to their kids, I tried to explain as simply as possible. "Well, David actually had several wives," I said. Then I read straight from the passage of scripture that ends that particular Bible story—those verses that very clearly explain how, after his first wife, Michal, was given to another man, David married several other women.
"At the same time?" the youth asked. Then, seeing me nod my head, he said loudly, "Then he was a sinner!"
What was odd about the statement was that it came from a young man who had been born and raised in the church, attended Sunday school almost every week of his entire life, and claimed to have read the Bible through at least once. Yet here he was confused by the sudden realization that David was, among other things, a polygamist. Was that not a key plot point throughout the books of Samuel and Kings? Was there not chapter after chapter of troubles that David had because of all the wives he took? How could this young reader have missed it?
Then again, was he just reading to find the answers he had already been told to look for? Did somebody tell him that the Bible was just "Basic Instructions Before Leaving Earth" and so whatever he read that did not apply to the Gospel of Salvation he just ignored? Did somebody tell him "David was a man after God's own heart" and so anything he read that proved contrary just didn't register in his mind? The murders. The lust. The adultery. The political intrigue and the lies. The very blatant violation of Moses' orders to establish the places of worship on certain mountains throughout the nation (which I personally suspect was a political move on David's part to consolidate power over the scattered and divided people by bringing their focus of worship into his own "possession" within his newly-established capitol)? Is that something that most "Christians" just don't see or question because they have been trained to look for nothing more than just the "rice or Chow Mein?" (And since I know the accusation is going to be made, dear reader, I must ask: Can you really consolidate this paragraph into a single statement of being "for" or "against"?)
When I read the Bible, I read it to understand what it says. When I'm given a single verse to read, I like to read the entire chapter surrounding that verse to get an idea of the context in which it was written. I don't shy away from long paragraphs or long-winded "rants", and I don't pass judgment on writers who take "too long" to get to the point. Yet the more I write, and the more it is dismissed by readers who are not willing to "listen", the more I have to wonder about the teachings of Jesus that were NOT written down. Think about it. How many Christians claim to have read the whole Bible through in a year? Jesus spoke and taught for three years. And yet, if one were to read all that Jesus said throughout the four Gospels, it would take less than a day. Did he just repeat himself over and over again? Did he have a lot of interruptions? "Yes, Martha, I'd like some more coffee, thank you." A Christian cannot possibly insist that the New Testament contains all that Jesus taught to his disciples and then go spend two hours a week, every week of the year, in church listening to a pastor teach them far, far more than what is written in the Bible. Either it is accepted that much of Jesus' words were never written down, or it is accepted that Jesus was one of the quietest, most reserved men in the history of mankind—so reserved that it must have driven him mad to want to heal, teach, rebuke, and correct more than just the few religious leaders and sinners of Judea.
Here's a good example of how well the people in Jesus' time listened—even to someone they believed to be their "Messiah". Matthew 19 tells a story of a man who asks Jesus a simple question: "What must I do to be saved?" Clearly he wanted a "Rice or Chow Mein" answer. Jesus did not give him one. In fact, what was written down at this point was probably only the gist of what Jesus really unloaded onto the poor fellow. In the end, the man went away unhappy because he was not given the answer he had been looking for. It probably took too long to get to the point, didn't agree with the young man's political view, and possibly volunteered a whole bunch of details like "By the way, Aristotle is wrong about the idea that the world is made of four elements. The old atoms theory is actually more along the lines of how God's creation really works." In a nutshell, it was not what this rich man wanted to hear.
So here comes the crux of the matter. What did Jesus' pupils miss? And what did we, not having those teachings written down, miss? The answer is: nothing. The Bible points the way for every person on this earth to have their own personal teachings from Jesus in the form of the Holy Spirit. Jesus gave us this gift shortly after he ascended into the heavens. Each and every Christian who asks Christ's Spirit into their heart has access to the teachings of Jesus from the Holy Spirit. But how many of us really listen to that still, small voice within us? How many of us actually go through life asking Jesus to speak to us, to teach us, and to answer our questions with more than just a "Rice or Chow Mein" answer?
In my experience, the Holy Spirit speaks to everyone. Those who have not asked Jesus into their heart may even hear the Spirit trying to reach them—but they do not have a clue what it is that they are experiencing. Sadly, many more who have asked Jesus into their lives still don't listen to the Spirit when it talks to them. They may read the Bible through once every year, and they may never fall asleep in the pews on Sunday, but they go through most of their lives never stopping to wonder what God might be trying to teach them in a more personal way.
The more I understand about human nature, the more I understand that the few words of Jesus that were written down were the topics his audience was looking for. Life after death. Forgiveness of sins. Deliverance from Rome. Rice or Chow Mein. What else might Jesus have taught in those years that just didn't seem "important" to his followers? What meanings do you suppose we might be able to glean from his sermons had his listeners not wanted to just hang on to the "blessed are those" parts?
Alas, though, most of what Jesus taught his disciples on a daily basis is lost to us, because, like me, he took too long to get to the point. Those who approached him asked simple questions: What must I do to get into heaven? What is the greatest commandment? He answered with long paragraphs and strange illustrations that wandered far from the original question of "rice or Chow Mein". Unable to follow him on his "rant", the listeners often went away sad, or disgusted, or convinced that they were more clever than that rambling, water-walking idiot.
And so it goes even today. People want an easy answer. They want to spend twenty three-and-a-half hours a day doing what they want, then be handed the truth to them in a format that fits into that one half-hour they carved out of their busy schedule. And when the truth does not fit into their format, they dismiss it as wrong. But who is the real fool? He who seeks the truth, or he who has convinced himself that the truth lies within the confines of a "Rice or Chow Mein" answer?
| | |
| --- | --- |
| Posted by rjagilbert on August 23, 2014 at 4:40 PM | |
I pulled up to the drive-thru at the local Panda Express and spoke into the box. "I'd like an orange chicken bowl with fried rice," I said, "And a second bowl of…"
"Do you want a panda bowl with rice?" the young woman interrupted from the speaker.
Confused by her question, I repeated my order. "Yes, a panda bowl with orange chicken."
"Do you want a Panda bowl with rice or Chow Mein?" she repeated.
"Rice," I said again. "And with Orange chicken as the entrée."
"Okay," she said. "So I have a panda bowl with rice and what would you like as the entrée?"
In the passenger seat, my wife muttered out loud, "Seriously?"
"I'm sorry," the young woman stated, "I didn't get that."
I repeated the order one last time. "Yes. That is a panda bowl with a side of rice and orange chicken."
I paused to see if she would repeat me, but she only asked, "Is that everything?"
"I'd also like a mushroom chicken bowl with Chow Mein," I added.
She stopped me before I could finish. "Okay, so you want another panda bowl with rice or Chow Mein?"
Now I understand that there is a process to how Panda Express puts an order together. They start with a side of either fried rice or Chow Mein, then add the entrées to the top. But is it really so impossible to fathom an order through the drive thru that doesn't follow that sequence? Especially since the menu in front of me listed my options as "Bowl of one entrée and one side"? Why can't I list the entrée before the side?
When I was a young man, I worked drive thru just like her. I learned very quickly how to assemble an entire order in my mind before entering it in to the register. I know it is possible. Maybe the young woman was trying to train me (and all her drive-thru patrons) how to give her my order, but certainly she can't expect to be successful in conforming the entire local population of potential customers to her method? Is it not easier to learn how to listen?
Many years ago, I called into a radio station with an opinion that was not perfectly aligned to either side of the two opposing views that were duking it out over the airwaves. When I started to share my two cents, the radio host cut me off and asked, "are you for or against?" That was it. He didn't want to hear what I had to say. He only wanted to hear me say one of two things. With or against. Black or white. Rice or Chow Mein.
That, right there, is the crux of the bigger problem. How many of us say we listen, but we really don't want to hear what the speaker is saying. How many of us are just listening for what we want to hear: rice or chow mein? Seahawks or Fourty-Niners? Democrat or Republican? For or against whatever the issue being discussed? I suppose it's the same kind of frustration you might get from filling out an online survey that never gives you the opportunity to leave a comment. They just want you to select answer A, B, C, or D. The closest you get to sharing your own customer experience are the five bullets to select from between "Extremely satisfied" and "Extremely dissatisfied". I have to ask: is the company that employs such a survey really listening to its customers?
When I write up an email or a blog, it is usually longer than just the few sentences it would take to express my alignment for or against an issue. Usually I have an explanation for why I think the way I do, and usually it is not just "Go Seahawks!" or "I want Chow Mein!" Often I anticipate an argument against my point, and so I take the time to provide additional evidence to strengthen my position. Imagine how annoyed I might get when my opinion is criticized as a "rant" because it is longer than the one sentence of "for" or "against" that the reader wants to read.
The first draft of this "rant" concluded with a saying I like to use to illustrate how people judge based on trivial variables such as the way a man dresses at a sporting event. Unfortunately, when my wife proofread the piece, she told me that I had lost the reader's attention when I "changed the subject to football". That, in a nutshell, explains the feeble-mindedness of mankind. If I take too long to illustrate the idea, if I use too many illustrations that don't "match up" in the reader's mind with the topic they think they are reading about, then I've lost them. If it's not what they expect to read, if it doesn't take them to the conclusion they are already looking for, then it is I who am guilty of "wandering" with my topic. How many times have I been told that (or made to feel like) my message is not important simply because it is not what the reader wants to focus on? Never is it the reader who is guilty of not listening to what I am trying to say. It is always me who is guilty of being "unimportant".
The saying I used goes like this: If you don't wear a cheese on your head when you walk into a Packers game, it doesn't matter what you say or do, you are rooting for the other team. It doesn't matter how loud you cheer or whether you painted your chest green and yellow beneath your neutral-colored sweater. You have already been judged, and you are "against". That's how it is, though. People don't really want to gather information. They don't want to have to pay attention. They don't want to do the leg-work through too many unfamiliar paragraphs. They already know what they are looking for, and if they don't get it—and fast—then nothing else matters.
I can write my sentences short. I can edit it down to a few paragraphs. I can say it again and again with a thousand different illustrations, always trying to get it just right so that the reader can understand the message I am trying to convey. Is it really fair to say that I am not communicating clearly when the reader gets the wrong idea by looking for the "for" or "against" argument that is not there? It is not me who is speaking ill or poorly. It is the reader.
They're not really listening.
They're not really looking for truth.
They might as well just be asking for "Rice or Chow Mein."
If I have no breath in Heaven, let these bitter words now be said.
For someday, I know, I'll stand before the judgment of the dead.
And many will say, "Lord, Lord, did we not do great things on Earth for You?"
Yet I will stand in silence as He answers, "You are Who?"
Then, when it is my turn to stand before the mighty throne,
I will not speak, as to a friend, but as a wretched soul, alone.
"Lord, all my life I sought You," I will say, "Did You seek me?
I tried to walk your path, follow your teachings, and be free.
And all along the way I found men hungry, naked, cold.
I dared to try to clothe them, feed them, keep them in Your fold.
Yet here you stand, saying to all, how those in want were You.
My life, you flash before me, damned for what I didn't do.
Rewind the tape, Lord, if you will to where I found You in need.
See how I tried to comfort you, but had no strength to succeed?
See how I cried out myself for help, for God above to show the way?
Yet no help came, and so, alone, I failed every day.
See, now, Oh Lord, how often this has happened in my life?
Where I, trying to do Your will, have waded into strife.
But all I have to show are wounds I gained along the way.
There was no victory for me in You, just a heavy price to pay.
For Lord, my trust is shattered—in You, in God, in faith.
I listened for Your Spirit but You sent the Lying Wraith.
How many of Your servants has it led to fail and die?
How many of us asked but never heard the answer why?
Did You not come dwell with Abram here on Earth from time to time?
Though he never saw Your promise kept, he knew You were divine.
But what do I have, Lord, to show for all my years of strife,
As I stand before You looking back at my short and fruitless life?
How can I know Your will, Lord, if You never showed it to me?
How can I know Justice, Love, Honor, Truth, or mercy,
If You never stepped low to show it to me before my death?
Then, Lord, it is You whom I condemn with my final, gasping breath."
If I have no breath in Heaven, let these bitter words be spoken
Would that I knew He hears them and knows how much I am broken.
Lord, am I not the Bride of Christ? You asked and I said yes.
I'm already committed, should I not also be blessed?
I feel as though our plans to wed have brought the enemy,
While you, so legalistic, still insist that You are free?
And while I take the blows and arrows of Satan for this ring,
You sow your oats, not yet my Groom, like I don't yet mean a thing.
When does Your vow take place, Lord, when do You set down and stay?
Marriage used to start the moment both agreed in the old day.
Now here you are, insisting, that the priest has not yet spoken.
You've planned the feast, invited guests, yet no promises are broken.
Am I not Your bride, Lord, not some snarling, female whelp?
Dear Husband, I don't mean to nag, but I really need your help.
If I have no breath in Heaven, when you tally up my debt,
May my words now be my defense tho my destiny is set.
For how could I hope to know the truth in a world so ruled by lies
Where You, now crowned its king, have always ruled it in disguise?
I followed You. I served You. I thought your teachings wise.
Yet where did your path lead me? Failure. Foolishness. Demise.
The world thought me a mad man; how could they be disproved.
When every act to show You to them left me looking like the rube.
I spoke the words you asked me to, did deeds as You demanded.
The world resisted, fought me hard, my actions reprimanded.
My health was robbed while I was young, yet onward I strode in your name.
None saw my endurance as inspiration, only saw and mocked my shame.
I prospered from Your wisdom, Lord. I tried to share it with the lost.
They took the wealth they wanted, but your wisdom—that they tossed.
And in my hour of need, as I was robbed of all I'd earned,
You never came to my defense. You left me doubting what I'd learned.
Now here before the throne I stand with nothing for myself to say.
My life a debt you now demand; I've nothing left that I can pay.
And yet, there is another debt. A debt built up from doubt.
For though you shine in all your glory, I still haven't figured out
Why in all the years I sought you, tried to have you in my life
By the end, I still don't know you. All I've known is doubt and strife.
And I can't help but speak for these other souls–all the ones you've thrown to the flame.
Did you hide from them like you hid from me? Are you truly the one to blame?
Were we all to watch our lives unfold again—the darkness, the despair—
Inevitably, the moment each of us cried out to you…did you ever show you cared?
Not with laws. Not with religions. Not with Sunday Morning rites.
But a real, close up relationship with those deep in the fight.
If I have no breath in Heaven, this You must first understand.
If You throw any of us to the flames, then You, also, are damned.
I used to be GAY…
But then those who did not understand changed its meaning.
I used to be CHRISTIAN…
But then those who did not understand changed its meaning.
I used to love ART and the THEATER and the FREEDOM OF SPEECH…
But then those who did not understand changed their meanings.
I used to love my MISTRESS…
But then those who did not understand changed its meaning.
I used to be MARRIED…
But then, just last week, those who did not understand changed its meaning.
How much longer can FREEDOM last…
If those who do not understand have the power to change its meaning?